Offering Top-Notch Soil and Foundation
Engineering Services
Turn to Ned Clyde Construction Inc. for reliable soil and foundation services. In our more than 35 years of serving our clients, we have completed more than 5,000 projects.
Soils in the San Francisco Bay Area are often active, and structures founded on these soils are constantly shifting and settling. Often, repair can be as simple as sealing cracks. More severe foundation problems may necessitate foundation replacement or stabilization. Ned Clyde Construction Inc. has been at the forefront of the foundation replacement and stabilization industry for many years. We utilize proven, state-of-the-art techniques and procedures to underpin and re-support existing inadequate foundations. We have successfully replaced or stabilized thousands of residential and commercial buildings.
To finish these projects, we have acquired various types of state-of-the-art equipment such as portable drill rigs for excavating piers, hydraulic portable power packs for installing pipe piles, and a computer-controlled helical anchor installation system.
We have the right equipment and skilled technicians to successfully complete most types of projects.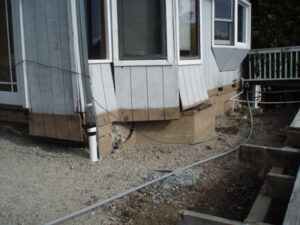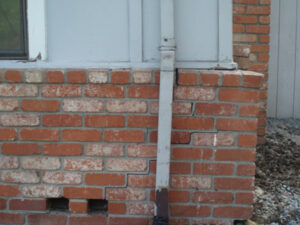 Drilled Piers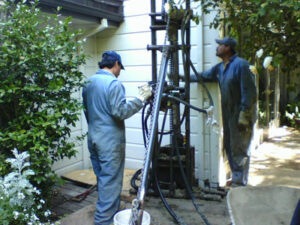 This underpinning project required a limited access drill rig to avoid damaging existing landscaping. This portable drill rig was hand-carried into the backyard and reassembled in order to drill the deep pier holes. This particular drill rig is capable of drilling 18-inch diameter piers up to 28 feet deep.
Pipe Piles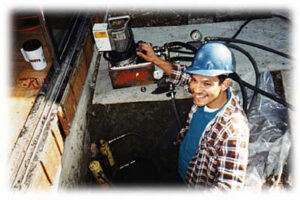 This Woodside home had settled over eight inches on one side. Because there was no indication of lateral movement, we were able to install eight hydraulically pushed pipe piles, and relevel the foundation.
Helical Anchors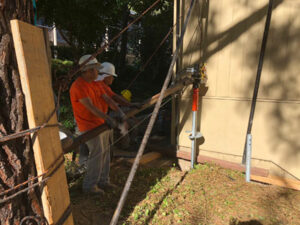 This Rossmoor apartment had experienced heave, causing the floors to be severely out of level. We were able to install a series of helical anchors through a deep layer of fill to stabilize the foundation prior to releveling.
Foundation Replacement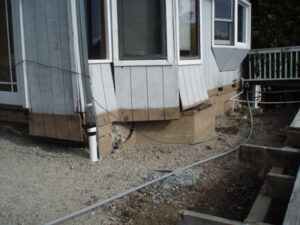 Excessive movement caused the foundation of this Lafayette home to crack and distort the framing. The foundation was removed and replaced with a new reinforced concrete deep foundation
Drainage is often at the root of soil movement problems. Ned Clyde Construction Inc. installs practical and effective drainage systems engineered with high-quality materials, which are intended to last. We often install drainage systems around structures to help reduce the potential for foundation movement.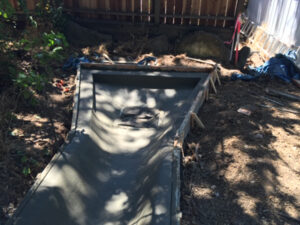 Heavy winter rains can cause excessive surface water flow on hillsides. This condition can be corrected with the installation of a reinforced concrete v-ditch.
Subsurface Drainage Systems
Water moisture migrating through the soil underneath homes has been known to cause foundation settlement. A well-constructed subsurface drainage system can collect and remove water moisture before it has a chance to seep underneath a house and affect the foundation.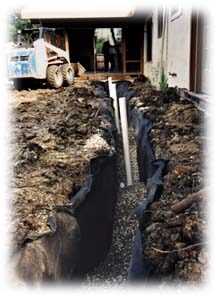 This Danville home had standing water in the crawl space, which, over the years, led to soil consolidation and foundation settlement. The deep subdrain now collects the subsurface water before it enters the crawl space. The foundation was underpinned with pipe piles, and the floors were re-leveled.
A poorly designed retaining wall might appear sound at first, but it will slowly fail over time. At Ned Clyde Construction Inc., we engineer our walls to last. Depending on the need, we can usually prepare bids for various types of retaining structures to meet your requirements and your price range. Many have been constructed successfully in areas with difficult access and with excellent results.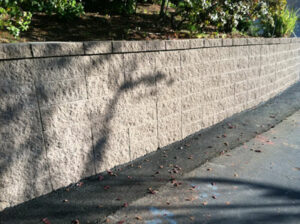 This split-face block wall with reinforced concrete footing was installed to replace a failing railroad tie wall at an apartment complex in Pleasant Hill.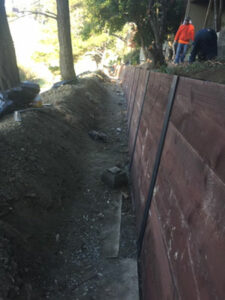 This soldier pile wall with wood lagging was installed on a slope in Moraga to replace a failing wall.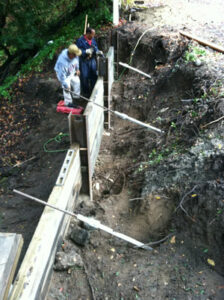 This soldier pile wall in Lafayette included helical tiebacks for additional lateral support of a horse arena.
Over the years, Ned Clyde Construction Inc. has repaired various slides and embankment failures. Earthwork can be expensive, and minor changes in a repair scheme can often mean substantial cost savings. For this reason, we prefer to provide design options to our clients in order to achieve a safe and cost-effective repair. We also have extensive experience in erosion control and corrective work along stream banks.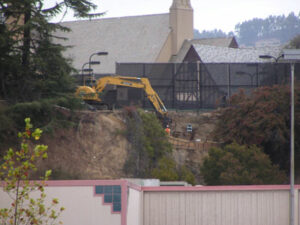 A landslide on a steep hillside was threatening a tennis court in Oakland. A reinforced concrete retaining wall with drilled piers and tiebacks was constructed to protect the tennis courts and stop further progression of the erosion.
This Danville home was undercut by a large landslide that threatened the total destruction of the house.
Following the temporary shoring of half of the home, an engineered landslide repair was designed and completed below the property, along with underpinning and re-leveling of the house.
The landslide repair has been completed, and the home is now ready for underpinning.
In recent years, Ned Clyde Construction Inc. has completed many environmentally sensitive projects including creek bank repairs and other ecosystem restorations. We work in conjunction with governmental agencies such as the California Department of Fish and Wildlife, the U.S. Fish and Wildlife Service, and the U.S. Army Corps of Engineers.
Ned Clyde Construction Inc. can provide design and construction services utilizing biostabilization techniques along with structural bank revetments.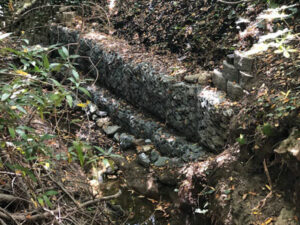 Gabion baskets were used to stabilize the toe of this creekbank. Vegetation will soon grow on the creekbank and cover the baskets.